The Terminal: Human-Shaped Whole
Presented at
Anonymous Gallery
(New York, NY, US), The Terminal is a 360° video that imagines the future work-life balance brought about by AI technologies.
Daylight Simulation
, the final segment of the video work, is an immersive audiovisual loop designed to mimic the experience natural daylight and act as a speculative renewal technology for workers beforing automated warehouse labor.
Featuring
Bob Bicknell-Knight
,
Ian Bruner
,
Joshua Citarella
,
Jessica Evans
,
James Irwin
,
Claire Jervert
,
Kakia Konstantinaki
,
Angeline Meitzler
,
Erin Mitchell
and
Neale Willis
Directed by
Jason Isolini
Curated by
Off Site Project
Press Release︎︎︎

Exhibition Archive︎︎︎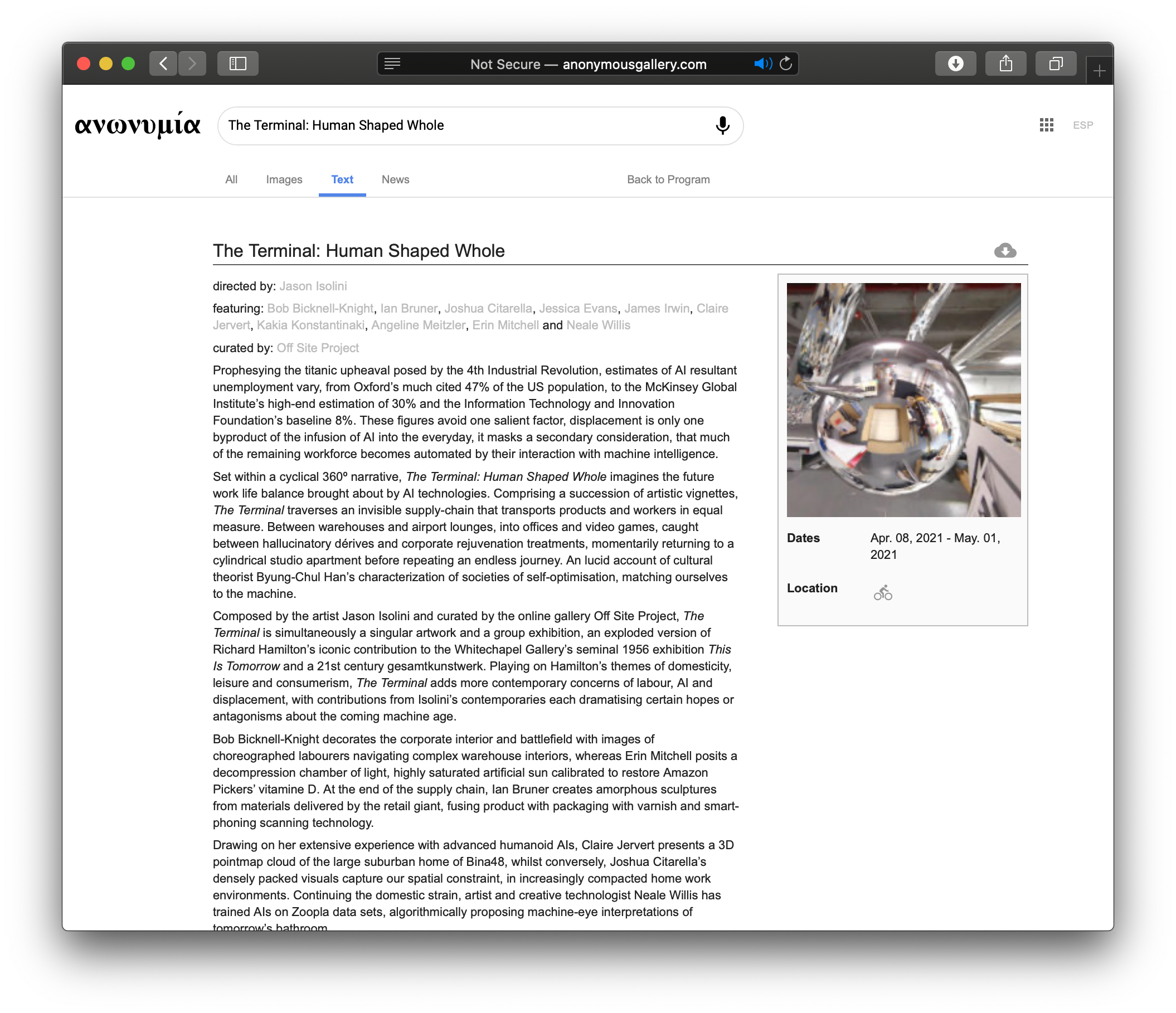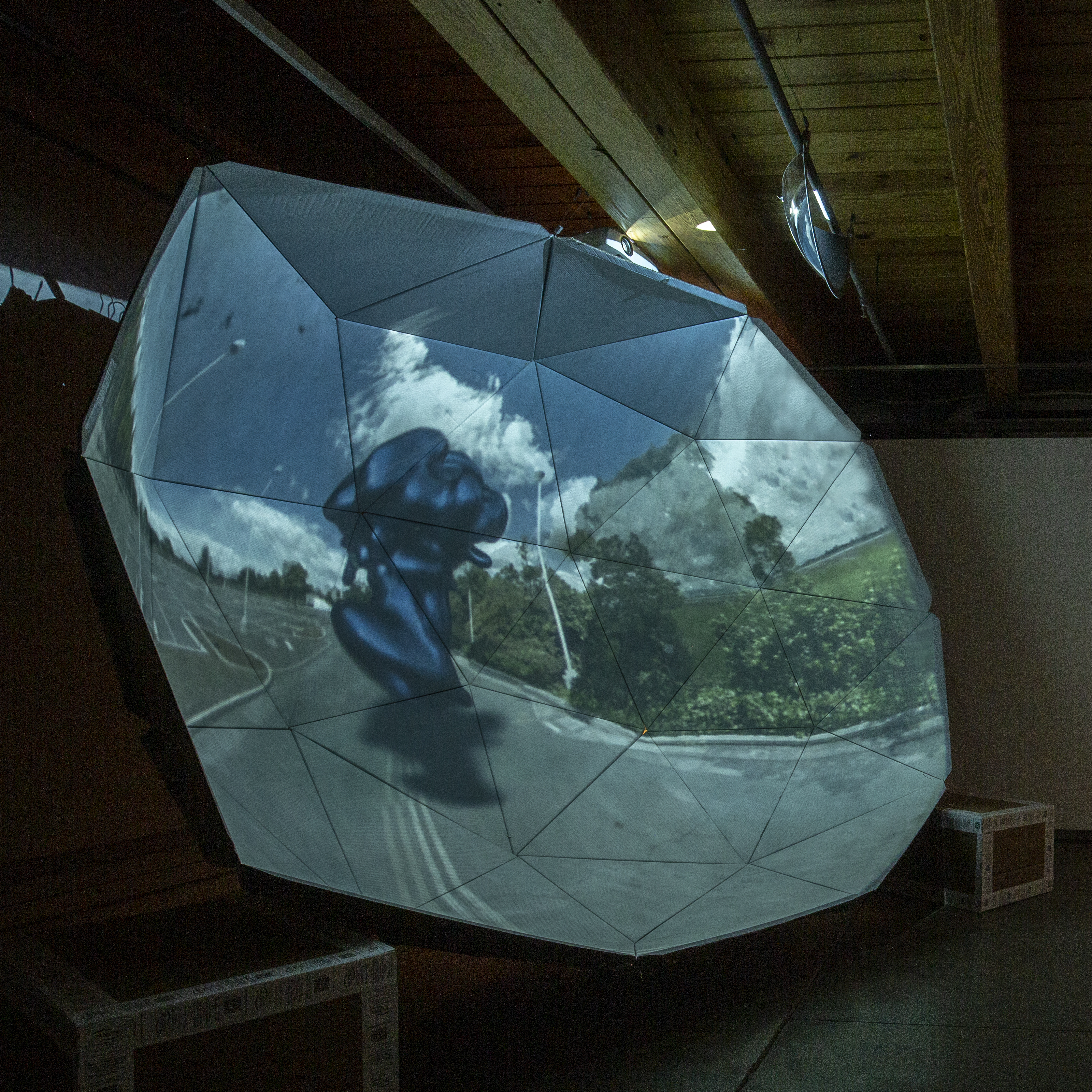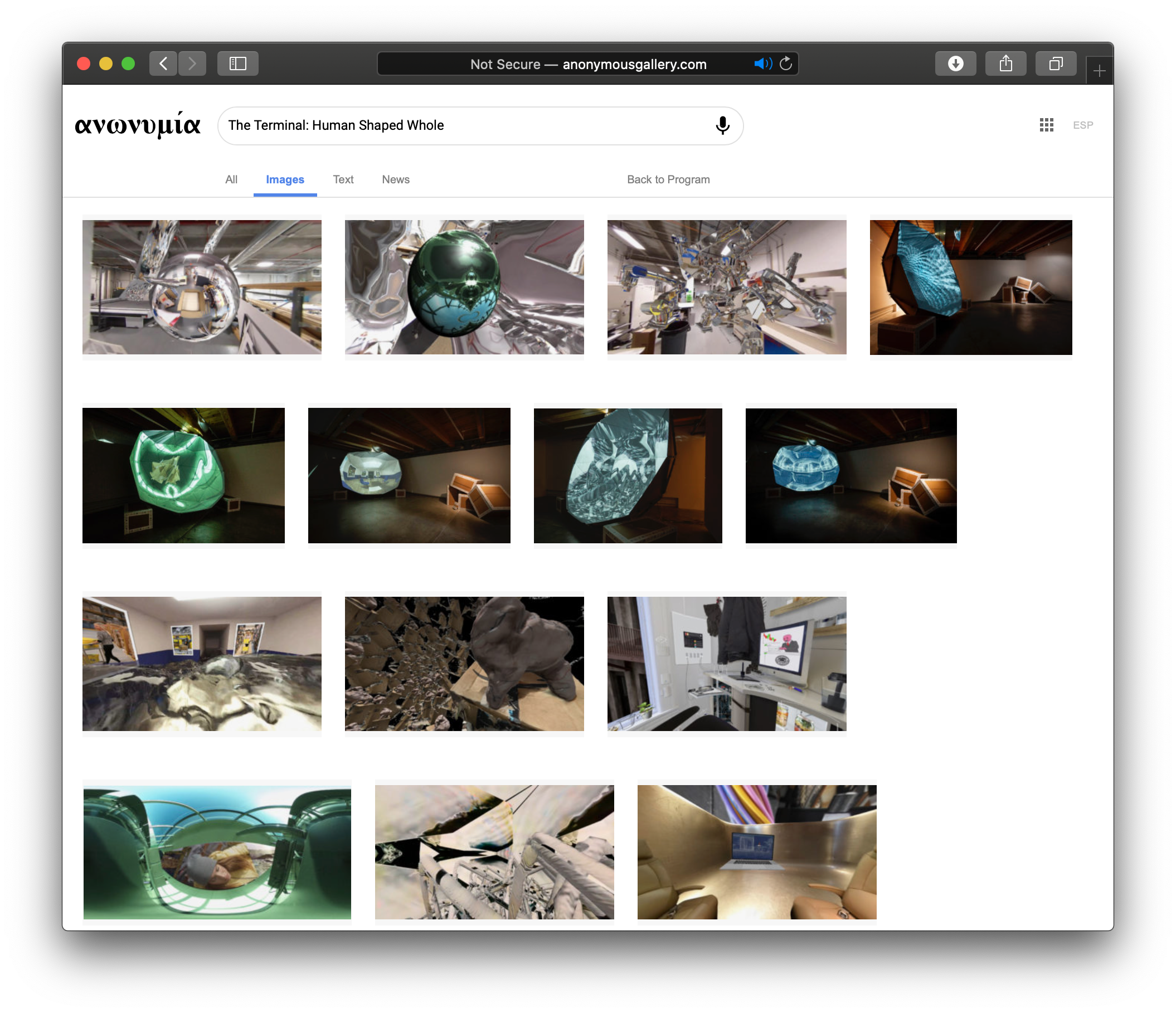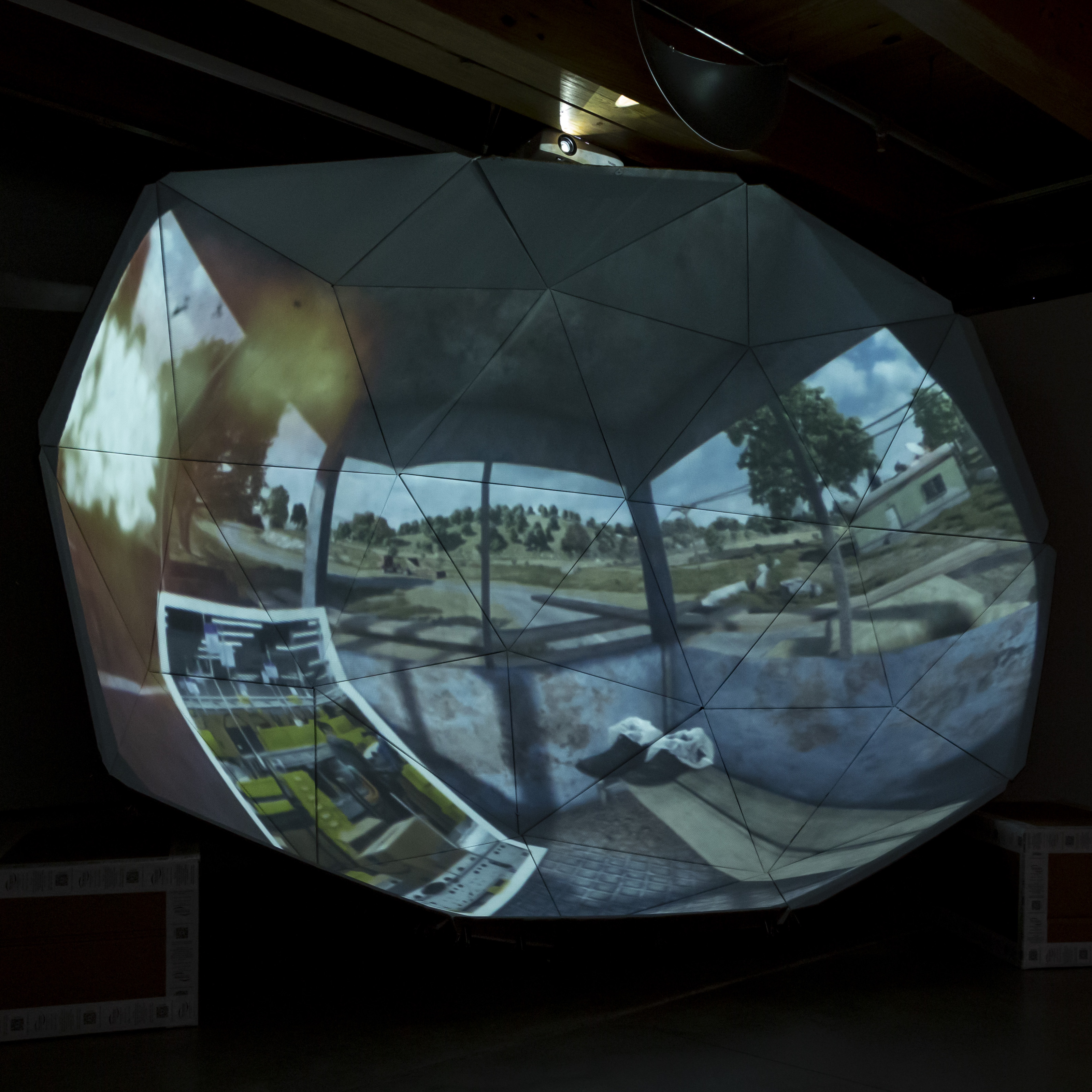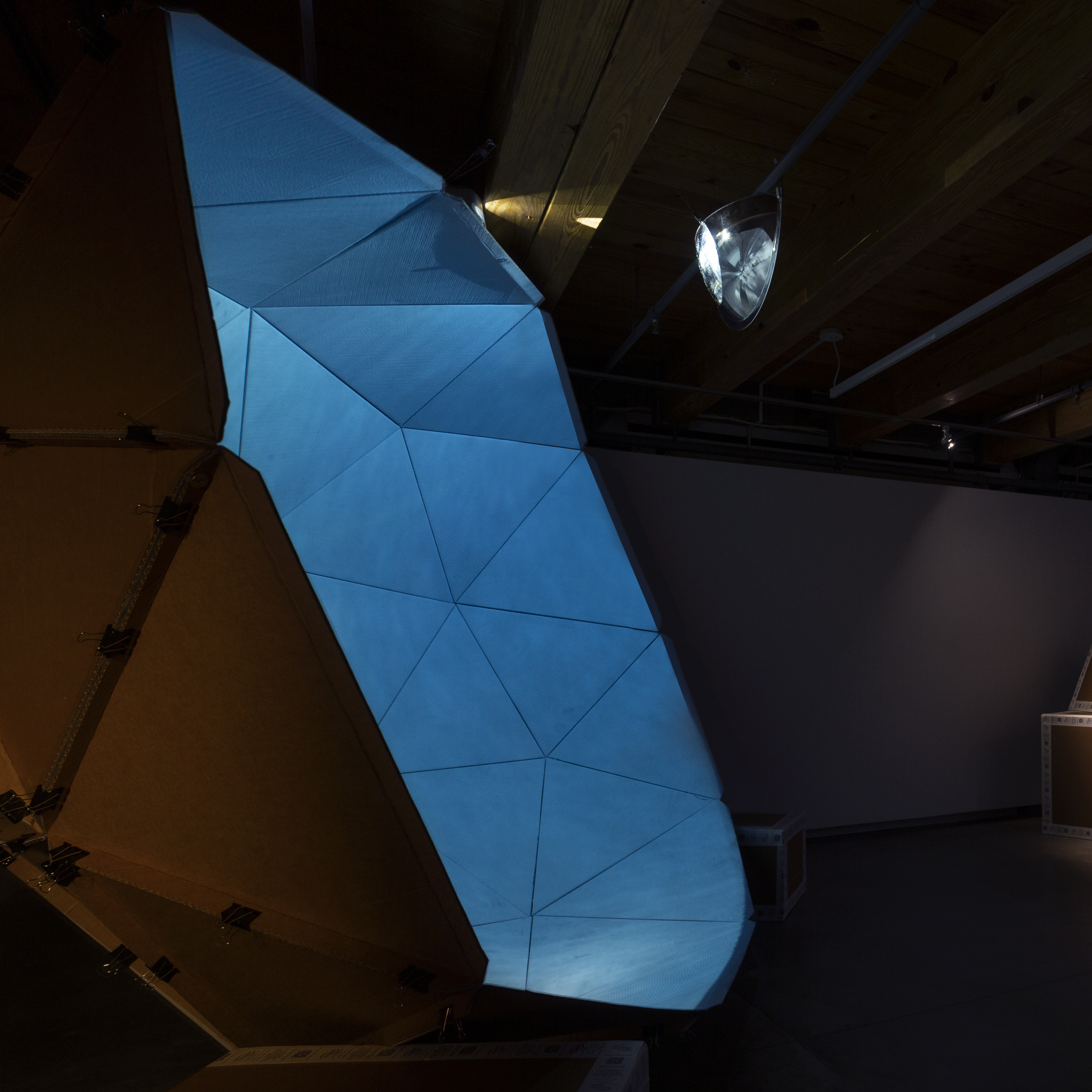 Description
Prophesying the titanic upheaval posed by the 4th Industrial Revolution, estimates of AI resultant unemployment vary, from Oxford's much cited 47% of the US population, to the McKinsey Global Institute's high-end estimation of 30% and the Information Technology and Innovation Foundation's baseline 8%. These figures avoid one salient factor, displacement is only one byproduct of the infusion of AI into the everyday, it masks a secondary consideration, that much of the remaining workforce becomes automated by their interaction with machine intelligence.
Set within a cyclical 360º narrative, The Terminal: Human Shaped Whole imagines the future work life balance brought about by AI technologies. Comprising a succession of artistic vignettes, The Terminal traverses an invisible supply-chain that transports products and workers in equal measure. Between warehouses and airport lounges, into offices and video games, caught between hallucinatory dérives and corporate rejuvenation treatments, momentarily returning to a cylindrical studio apartment before repeating an endless journey. An lucid account of cultural theorist Byung-Chul Han's characterization of societies of self-optimisation, matching ourselves to the machine.
Composed by the artist Jason Isolini and curated by the online gallery Off Site Project, The Terminal is simultaneously a singular artwork and a group exhibition, an exploded version of Richard Hamilton's iconic contribution to the Whitechapel Gallery's seminal 1956 exhibition This Is Tomorrow and a 21st century gesamtkunstwerk. Playing on Hamilton's themes of domesticity, leisure and consumerism, The Terminal adds more contemporary concerns of labour, AI and displacement, with contributions from Isolini's contemporaries each dramatising certain hopes or antagonisms about the coming machine age.
Bob Bicknell-Knight decorates the corporate interior and battlefield with images of choreographed labourers navigating complex warehouse interiors, whereas Erin Mitchell posits a decompression chamber of light, highly saturated artificial sun calibrated to restore Amazon Pickers' vitamine D. At the end of the supply chain, Ian Bruner creates amorphous sculptures from materials delivered by the retail giant, fusing product with packaging with varnish and smart-phoning scanning technology.
Drawing on her extensive experience with advanced humanoid AIs, Claire Jervert presents a 3D pointmap cloud of the large suburban home of Bina48, whilst conversely, Joshua Citarella's densely packed visuals capture our spatial constraint, in increasingly compacted home work environments. Continuing the domestic strain, artist and creative technologist Neale Willis has trained AIs on Zoopla data sets, algorithmically proposing machine-eye interpretations of tomorrow's bathroom.
Fragmented through the narrative loop, Jessica Evans' performance acts out a conversation between AIs as they advertise travel luggage, a commercial symbol of a system that conflates relaxation and freedom with consumption. Whilst, set on a Google Street View loop of their Facebook's California HQ, Kakia Konstantinaki's undulating alien form beats like an artificial heart, a menacing manifestation of post-Deleuzian control, a theme developed by Angeline Meitzler in an environment of cookie notifications expressing our perpetual tracking within surveillance capitalism.Finally, James Irwin's auditorily disturbing condition layers a distorted and copy-pasted cockroach with harsh visuals, cross-breeding nature's ultimate survivor with cyborg materiality, creating a desperate vision of the resilience required to negotiate this emergent landscape.
Online Exhibition
Functioning as a 360° video, an online exhibition, and video installation at
Anonymous Gallery,
(New York, NY, US), The Terminal takes a rhyzomatic approach to the contemporary exhibition.
Featuring works from each of the The Terminal's contributing artists, the online exhibition starts from a virtual model of a cardboard Amazon shipping package, directing online visitors to expand the themes of the video in works tailored to the themes of the project.
360 View ︎︎︎
Crossing the threshold it happens in an instance, all surroundings dissipate, sound vanishes, the experience of the body dissolves, momentarily all are replaced by a radiant white light, a secular experience of the divine. Some describe it as if they were communing with an omniscient algorithm. Those in the higher echelons of the company know better, the lens flare workers experience is actually a modified ocular response to a blast of calibrated sunlight and protein.

The idea originated when a board member's son suffered from the bends after surfacing too quickly scuba diving in the Bahamas. Sometimes the body needs a period of adjustment, however, waiting is antithetical to productivity, so the experience needed compression and importantly needed to feel naturalistic. Adapting household 'sad lamps,' with the latest biotechnology you can prep the body for a ten hour shift on the way in and decompress it on the way out, the employee hardly knows their biology has been temporarily reconditioned. It is almost a dose of amnesia making the reality of prolonged physical toil inconclusive to the experienced physical state.

In a new series of works created for The Terminal (2021), Erin Mitchell adapts her past investigations into corporate wellness brands, repositioning them to address the machinations of technology companies and their exploitation of workers. Situated as a cleansing break from chaotic interference, Daylight Simulation(2021) proposes a technological detoxification and administration of vitamin D for exhausted and sunlight deprived Fulfillment Center pickers. Imagined as a biopolitical alternative to clocking-in and clocking-out it envisions the expansion of corporate control into our very physiology. At the same time, within the 360° video it serves a practical purpose, offering breathing space between the onslaught of visual information.

The concerns articulated with Daylight Simulation (2021) play out in two new editions Mitchell has created for anonymous gallery that adopt customised product culture often found within corporate settings, conferences and trade expos. In Daylight Simulation (2021), the aesthetics of the detoxification chamber find themselves rearticulated up the corporate ladder, materialised on a white collar worker's mouse pad. Geographically and culturally severed from his blue collar colleagues, for the desk worker the solar flash is decontextualized from its grim reality, instead blending in with a sea of branded materials that come as standard at every station. The underlying menace is lost by virtue of banal ubiquity.

Back at the warehouse, Mitchell's Neo-Mantras for Human Automatons (2021) plays upon research into the jingoistic phrases stretched above the entrances to welcome shift workers. Borrowing the vocabulary of westernized yoga instruction, Mitchell's banner attaches corporate wellness initiatives to the possibility that prolonged exposure to algorithmically instructed labour might render involuntary actions, such as breathing, voluntary. Addressing systemic failures of self awareness, Mitchell's work reminds us of how phrases such as Amazon's "Work hard. Have fun. Make History," express a grim echo of "Arbeit macht frei."